BEST PLACES TO VISIT IN BANGKOK & PATTAYA
Pattaya is situated in Thailand as a well known retreat city of the country. This city is arranged on the eastern shore of Gulf of Thailand, which is only 100 km away from Bangkok. You can relax in the clear water of the ocean and lay on the ravishing sandy soul sea shores and take a gander at the stunning scene and the charming nightfall. Bangkok is a famous among sightseers, particularly from India. The travel industry in Bangkok offers assortment of touring and amusement alternatives.
01. Chao Phraya River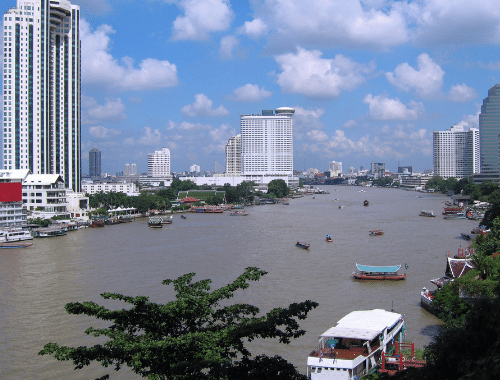 Chao Phraya River is the "King Of Rivers"
The river is a popular tourist attraction of Bangkok with many famous tourist places near by such as Wat Pho, the Grand Palace, Wat Phra Kaew, and Wat Arun. Tourists can explore sites by daily ferries or by Chao Phraya Tourist Boat pass.
An alternative way to see the beauty of the river can be done at dinner cruises. A few choices are Chao Phraya Princess Cruise, Loy Nava Dinner Cruises, and the Grand Pearl Luxury River Cruise & Dining Experience. Tourists need to be aware of the 'friendly' strangers near the banks of a river.
Location: Bangkok 10120, Thailand
Timing: 7:00 – 21:00
02. Siam Park City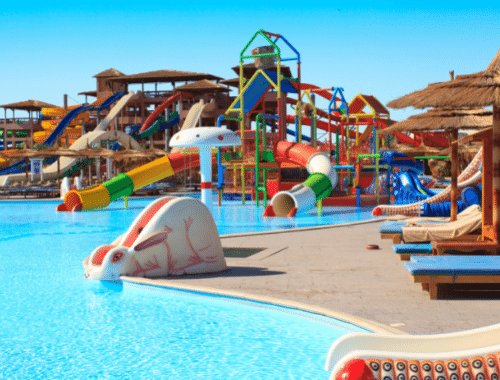 To have a fun-filled day with your friends and family Siam Park City is the best option. It is the biggest amusement and water park in Thailand with more than 30 rides. This place is recommended for all age groups with unlimited rides and food courts.
It has the world's largest wave pool, consisting of 5 different regions including Water Park, Family World, X-Zone, Fantasy World, and Small World. Either sliding down a 7-story high rainbow slide or enjoying a crazy ride on a roller coaster.
Water Park Timing: 10am­-5pm / Amusement Park: 11am-­6pm
Location: 203 Suan Sayam Road, Bangkok, Thailand, 10230
03. Safari World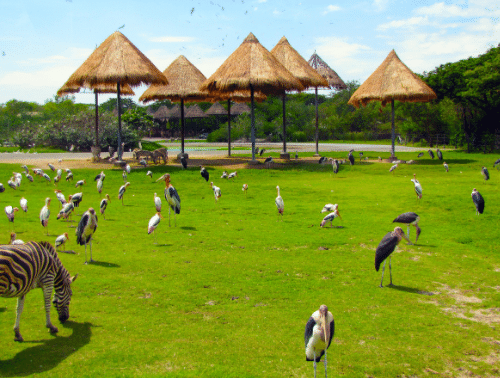 Have exceptional information on the natural life at Safari World Bangkok! During this beautiful, dazzling ride draw near with various birds and creatures like lions, ostriches, giraffes, and so forth Likewise, make some incredible memories around the tropical shades of fascinating birds at the Bird Show. Moreover, the remarkable Orangutan Boxing Show isn't to be missed when here, and the Feeding Show gives you admittance to hand feed a portion of the animals.
Enter the Marine Park, where you'll get the chance to appreciate stream travel and like the White Tiger Show. Aside from this current, there's the live and wild Hollywood Cowboy Stunt Show which is stacked up with terrible gunfights, joking around, and bullwhips, and a resuscitating water flume ride! It's no uncertainty more than your regular zoo stay!
Timing : Mon to Fri: 9:00 – 17:00 Sat to Sun: 9:00 – 18:00
Location : 99 Thanon Panya Intra, Khwaeng Sam Wa Tawan Tok, Khet Khlong Sam Wa, Krung Thep Maha Nakhon 10510, Thailand.
04. Siam Niramit Show Bangkok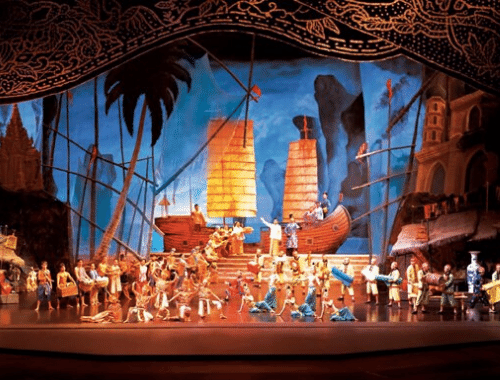 Siam Niramit is a-list execution depicting expressions and the social tradition of this country. This show is a Journey to the Enchanted Kingdom of Thailand that everyone should see. This show is even recorded in the Guinness Book of World Records.
The show includes more than 150 entertainers with around 500 outfits. Moreover, the world's most developed tech and top-class embellishments are used in the show showing an extremely practical, animating, and energizing foundation. All these make it among famous tourist spot in Bangkok and Pattaya.
Timing : 5:30 – 22:00
Location : 19 Thiam Ruam Mit Rd, Khwaeng Huai Khwang, Khet Huai Khwang, Krung Thep Maha Nakhon 10310, Thailand
05. Dream World Amusement Park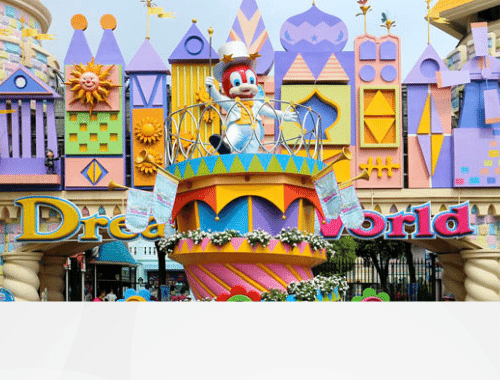 Dream World is one of the ideal entertainment spot for kids. It features four particular zones — Adventure Land, Dream Garden, Dream World Plaza, and Fantasy Land. One can enjoy over 40 rides with exceptional family attractions here. Among the four, the Adventure Land is the biggest territory and flaunts various rides like the Haunted Mansion, Tornado, Hanging Roller Coaster, Flying Carpet, and Thunderbirds.
Haunted Mansion and Space Mountain are one of the most exciting spots, the ride through vehicles and link train offers an amazing sight. Further, Fantasy Land offers rides themed on dream stories like Sleeping Beauty, Giant House, and 4D Adventure. The Dream World Plaza and Dream Garden have amazing themed gardens and shops.
Timing : 10:00 – 17:00
Location : 62, Moo 1, Rungsit-Ongkarak Road | Bang Yitho, Thanyaburi 12130, Thailand
06. Floating Markets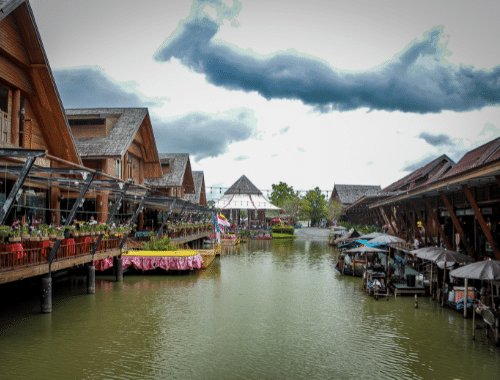 Floating markets are not much distant from the city. The Kha Floating Market is one of the best floating markets, found in provincial and green zone generally reached out over to coconut palm domains and pomelo natural product plantations. You can enjoy the market with a little longtail boat journey watching local people sell. There are various local meals available.
A lot of aged ladies can be seen preparing hot food in their little rowboats. At the point when food gets ready, they pass those dishes to clients on the banks of the channel. The markets can get very occupied so best to visit them is in the first part of the day.
Timing : 06:00 – 12:00
Location : Tha Kha, Amphawa District, Samut Songkhram 75110, Thailand
7. Madame Tussauds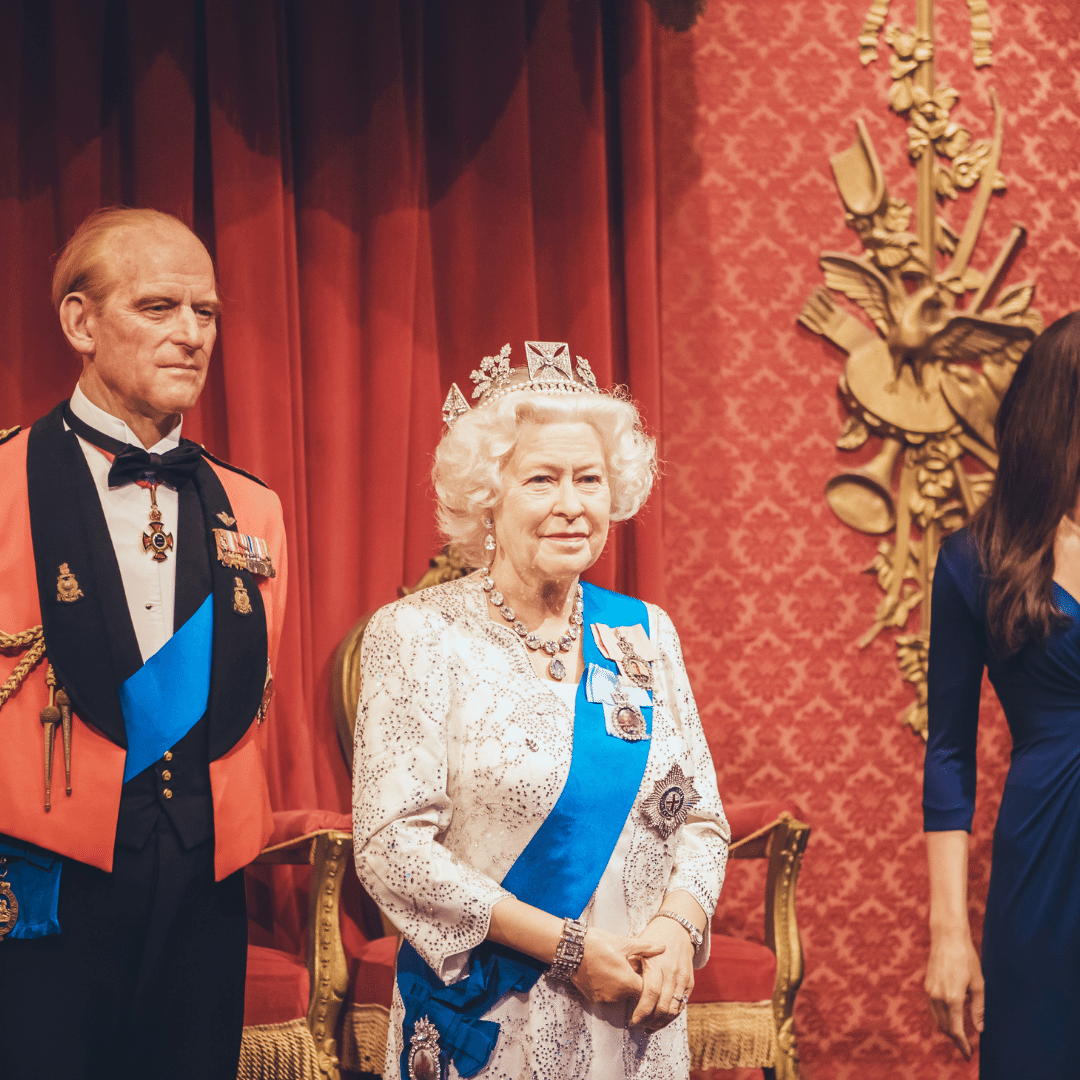 At Madame Tussauds Bangkok, you'll get the chance to see acclaimed celebs, world pioneers, Thai VIPs, and sportspersons from the whole way across the world. Every one of the puppets are life-like and of the genuine size of those. A huge piece of the fun here is catching selfies and photos with these prestigious people.
The wax exhibition hall is partitioned into different zones- history, expressions, sports, music, film, TV, Red Carpet, and pioneers. There are additionally a few things to enjoy like, stepping through an examination close to the Einstein sculpture and getting an extra shot at the football stand. At the leave, you can have a wax figure of your hand etched in your #1 shade.
Location: 989 Rama 1 | 6th Floor, Siam Discovery Shopping Center, Bangkok 10300, Thailand
Timing: 10:00 – 21:00


8. Art in Paradise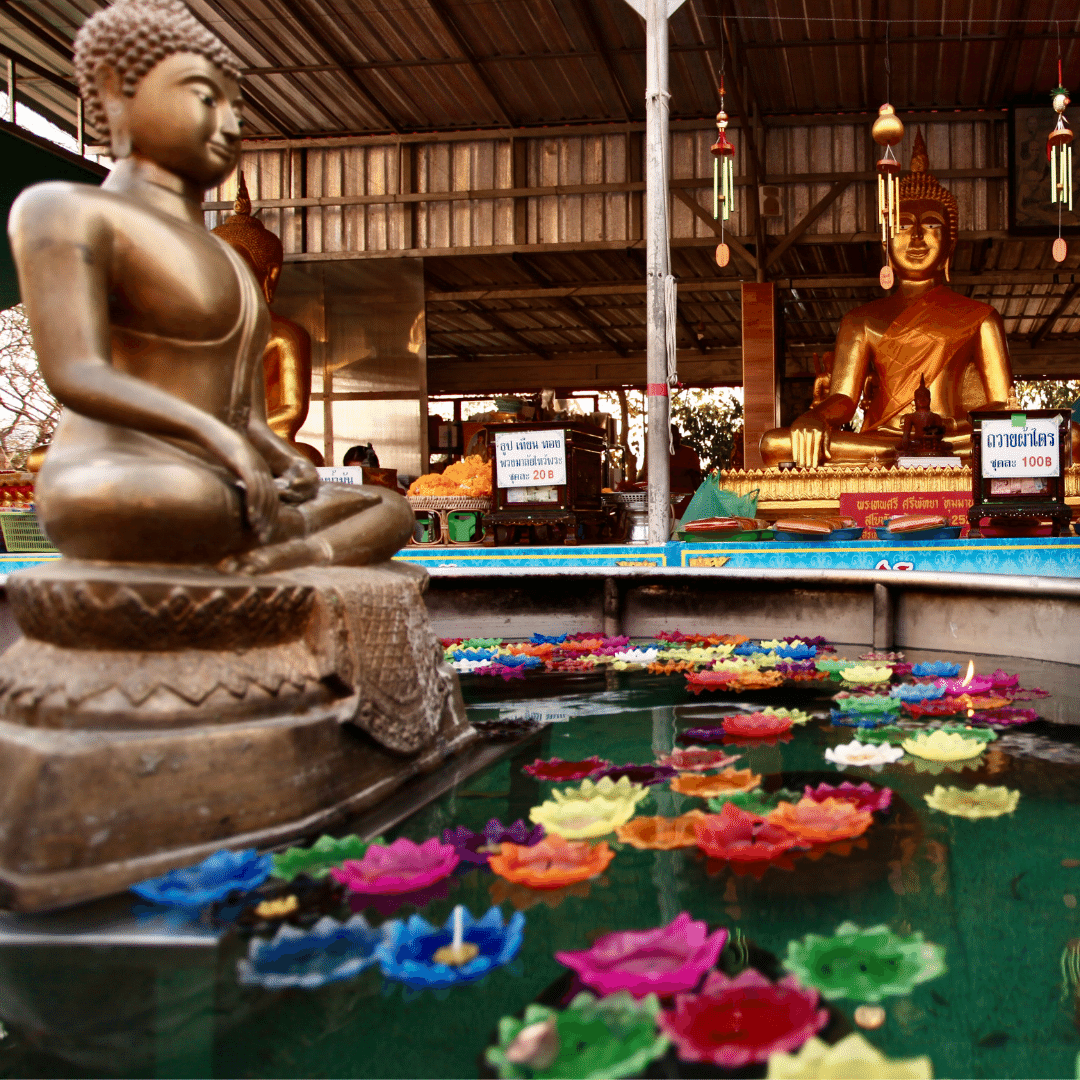 Offer your innovative psyche a chance to go out of control while connecting with the 3D works at Art in Paradise. There are a few innovative 2D works of art depicted in a 3D style which outfits a genuine climate. You can ride along the waves, sail through Venetian trenches, get away from a shark assault, and meander around the place where there is dinosaurs.
It's dream land, a great spot for kids and grown-ups the same where you can enjoy few hours taking pictures around the real-like 3D art. Don't forget to bring your camera! The 3D impacts of the photos turn out realistic and shows as if you are a part of the scene.
Location: 99 Esplanade Shopping Mall, 4th Floor, Ratchadapisek Road, Din Daeng, Din Daeng, Bangkok

Timing: 10:00 – 22:00


9. Sea Life Bangkok Ocean World
One of Southeast Asia's most huge aquariums. With more than 400 kinds of fish, scavangers and even penguins are a part of this immense underground marine world. Aquarium is divided into themed domains, with the innovative Shark Walk, where guests walk around a tank with five sorts of sharks swimming in it. Various seahorses can be seen at the Seahorse Kingdom.
By paying extra, you can enjoy exercises like taking care of boat rides, 4D film screenings, and in the background visits. Additionally, there's also a shark tank jumping for those having a license. There are African penguins at Rocky Shore, a huge gathering of spellbinding jellyfish, and short-pawed otters in the Tropical Rainforest.
Location: 991 Rama I Rd, Khwaeng Pathum Wan, Khet Pathum Wan, Krung Thep Maha Nakhon 10330, Thailand
Timing: 10:00 – 21:00

10. Muay Thai Live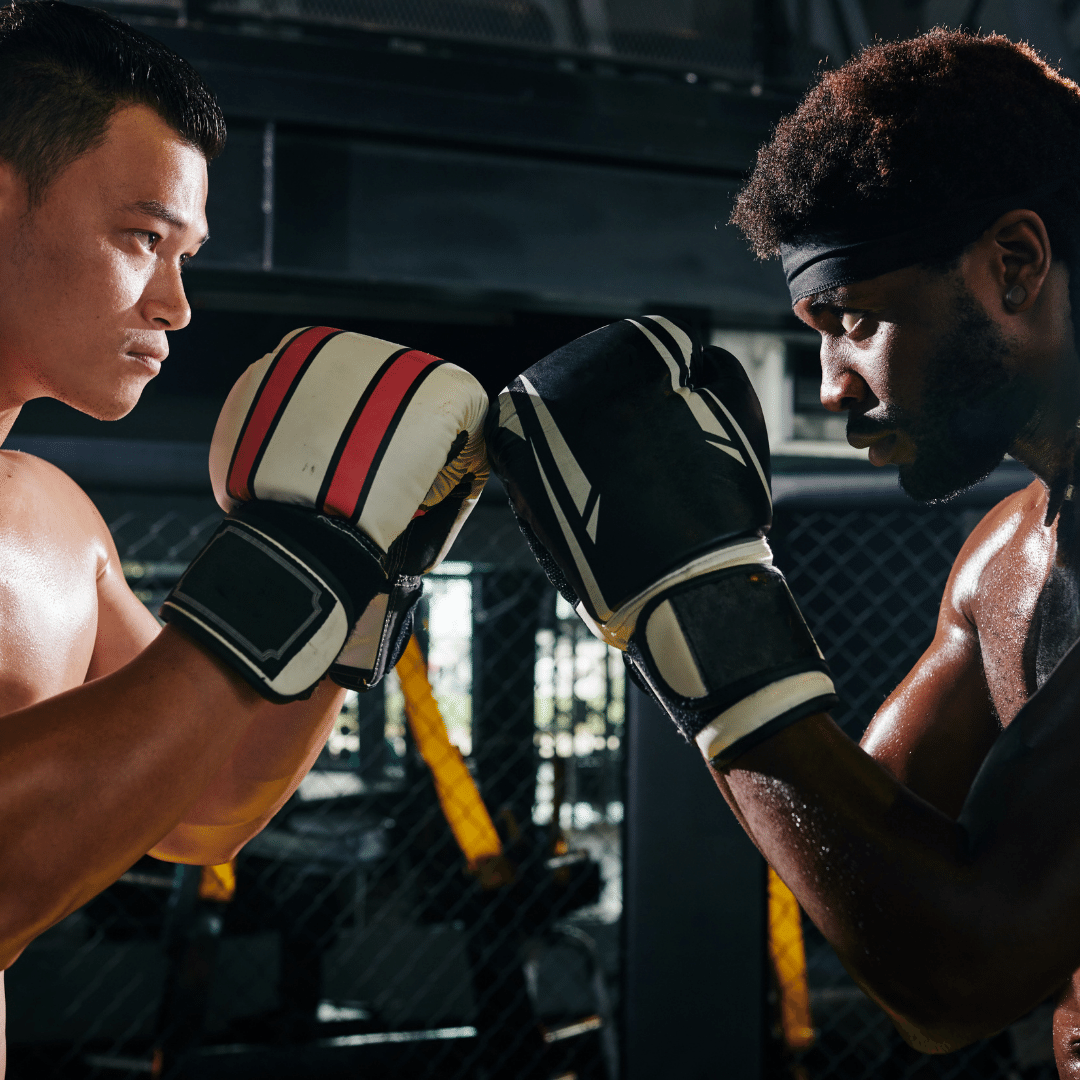 Extravagant a dramatic show of the chronicled scenery of Muay Thai in Bangkok. Muay Thai is a sort of Thai Boxing that has created with time and is pretty much as old as the actual city. The show makes a beautiful impact through its forefront lighting and exceptional representations. The Muay Thai Live execution takes after a live kickboxing occasion. Here you'll see a couple of genuine kickboxers and on-screen characters playing out a dramatization in 5 sections.
The play is finished by the Thai Boxing of modern period with some mind boggling effects. You will observe some veritable activity of Thai Boxing while sit in an exhibition place at the Asiatique riverfront to have some good times.
Location: 2194 Charoen Krung Rd, Bang Kho Laem, Khet Bang Kho Laem, Krung Thep Maha Nakhon 10120, Thailand
Timing: Tues to Sun: 08:00 – 21:30

11. Coral Island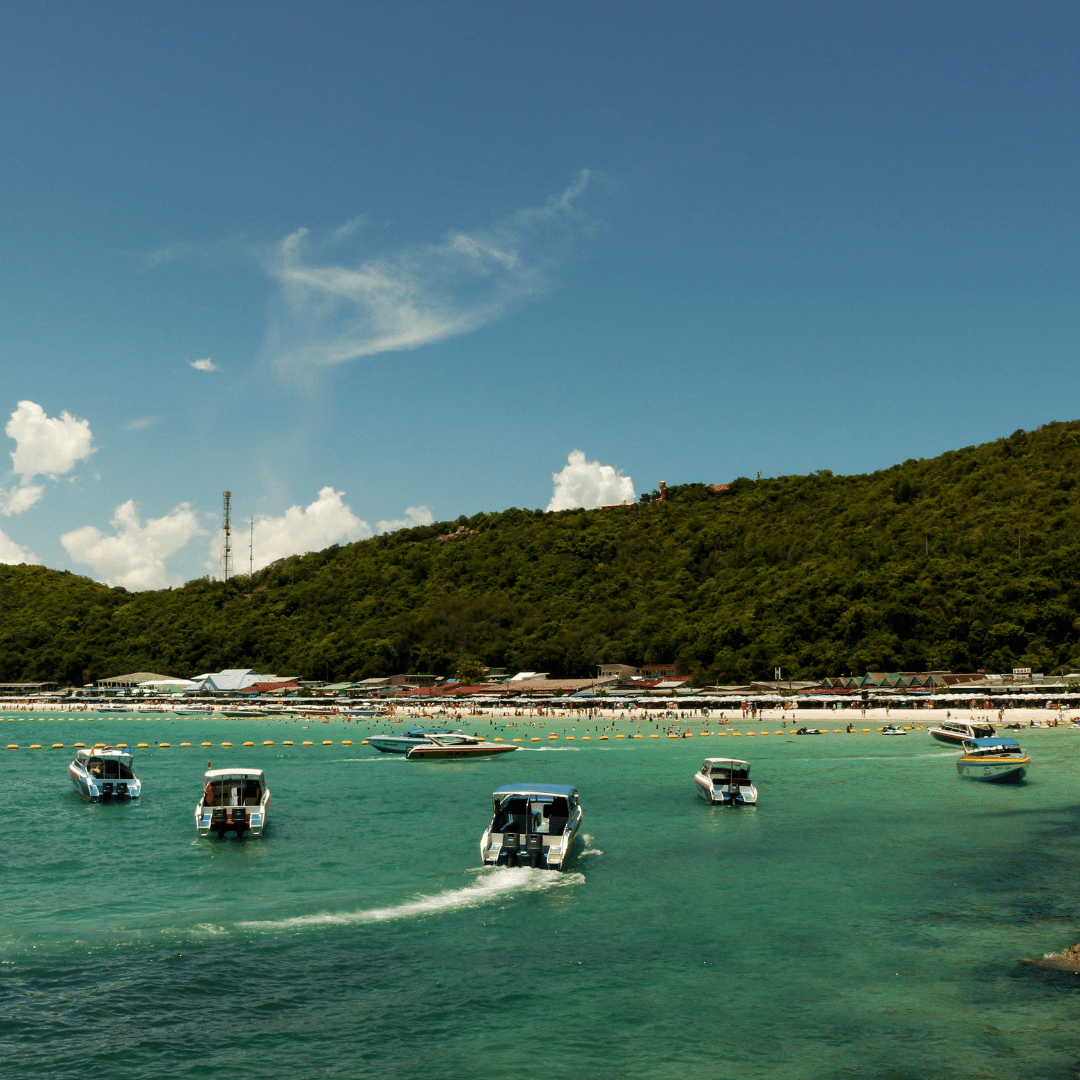 Coral island or Koh Larn is the most notable vacationer places in Bangkok and Pattaya With the shimmering white sand and the clear blue waters. Coral spotting in glass-base boats, swimming, swimming, and surfing are the excessively fun exercises at this island.
This island moreover offers other exciting exercises like windsurfing, stream skiing, and parasailing. Further, bustling shoreline bistros offer mouth-watering Thai suppers and invigorating beverages.
Location: Bang Lamung District, Chon Buri, Thailand
Timing: Opens 24 Hrs

12. Underwater World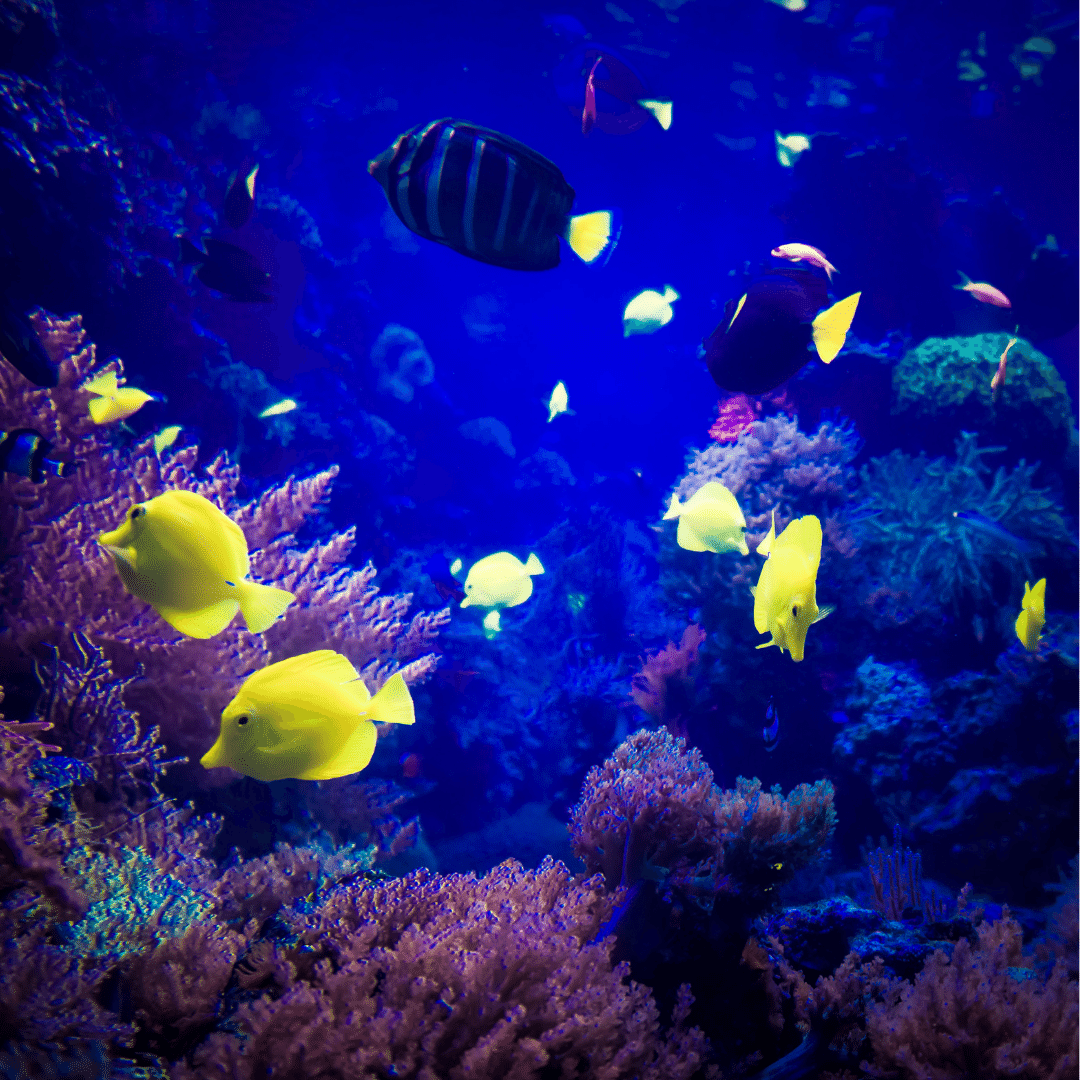 At Underwater World there are astonishing assortment of amphibian creatures including sharks, manta beams, coral, and beast fish to see from the protected 100-meter long submerged section.
Try not to leave behind the Koi taking care of movement while here, it will offer wonderful opportunity to everybody. Likewise, the marine preservation base of Pattaya will be a hit for the entire family. You can also plunge with sharks and manta beams for an exciting encounter!
Location: 22/22 Moo 11, Sukhumvit Road
Timing: 9:00 – 18:00

13. Nong Nooch Tropical Garden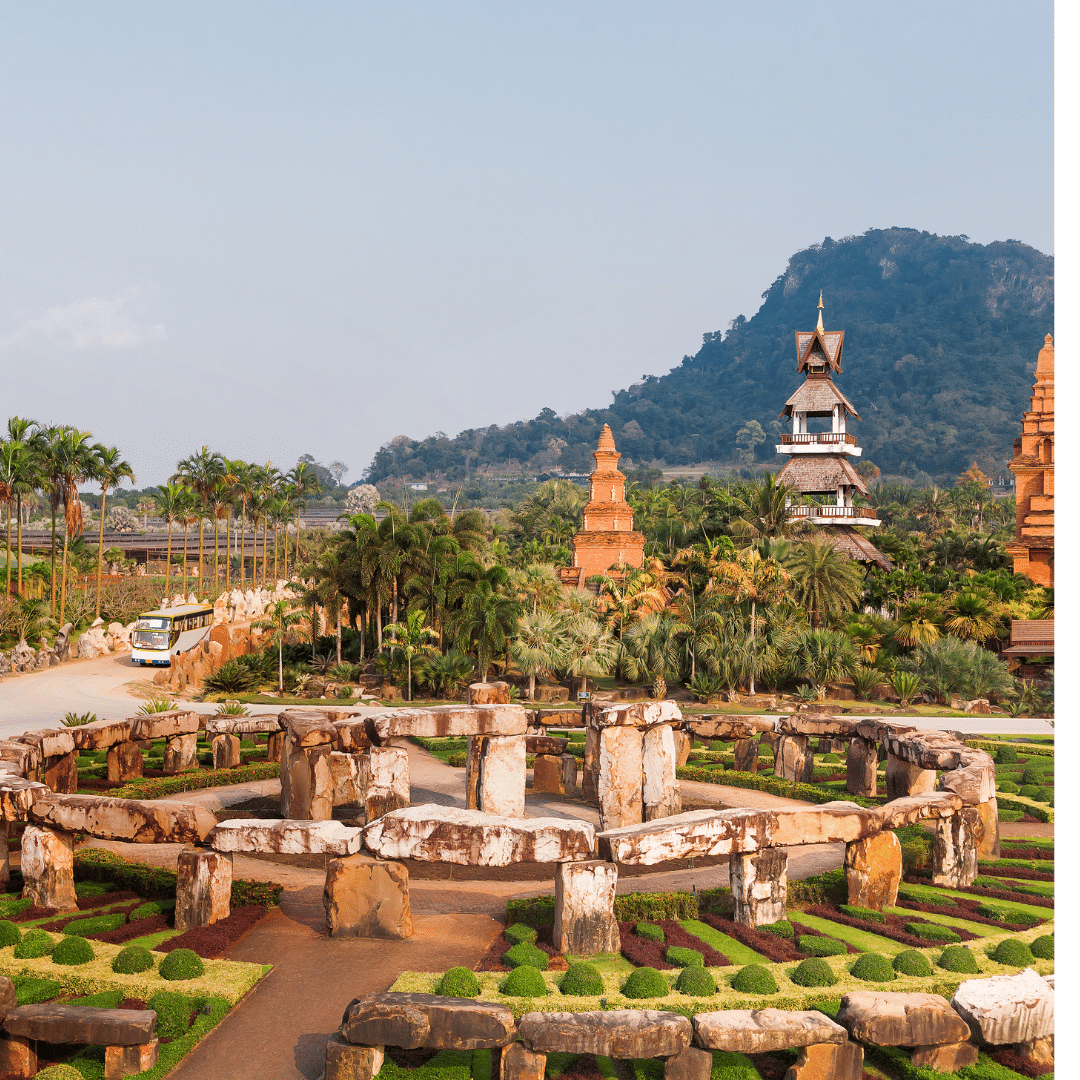 It's among those outstanding vacationer places in Bangkok and Pattaya where you can find out about a stunning Thai culture. Here you will see one of the best and most beautiful nurseries in Southeast Asia. This nursery will not neglect to intrigue any guest. Nong Nooch Tropical Garden is persistently assembling and improving the beautification framework with the goal that the nursery keeps up its look. Nong Nooch Garden is also assigned to the safeguarding, training, exploration, and protection of its colossal palm assortment and distinctive tropical plants.
Likewise, an assortment of Thai relics is appeared at this tropical nursery, where guests can taste valid Thai suppers as well. Painstaking work and mementos from all through the realm can be purchased at the nursery's retail plaza.
Location: 34/1 Tambon Na Chom Thian, Amphoe Sattahip, Chang Wat Chon Buri 20250, Thailand
Timing: 9:00 – 18:00

14. The Sanctuary of the Truth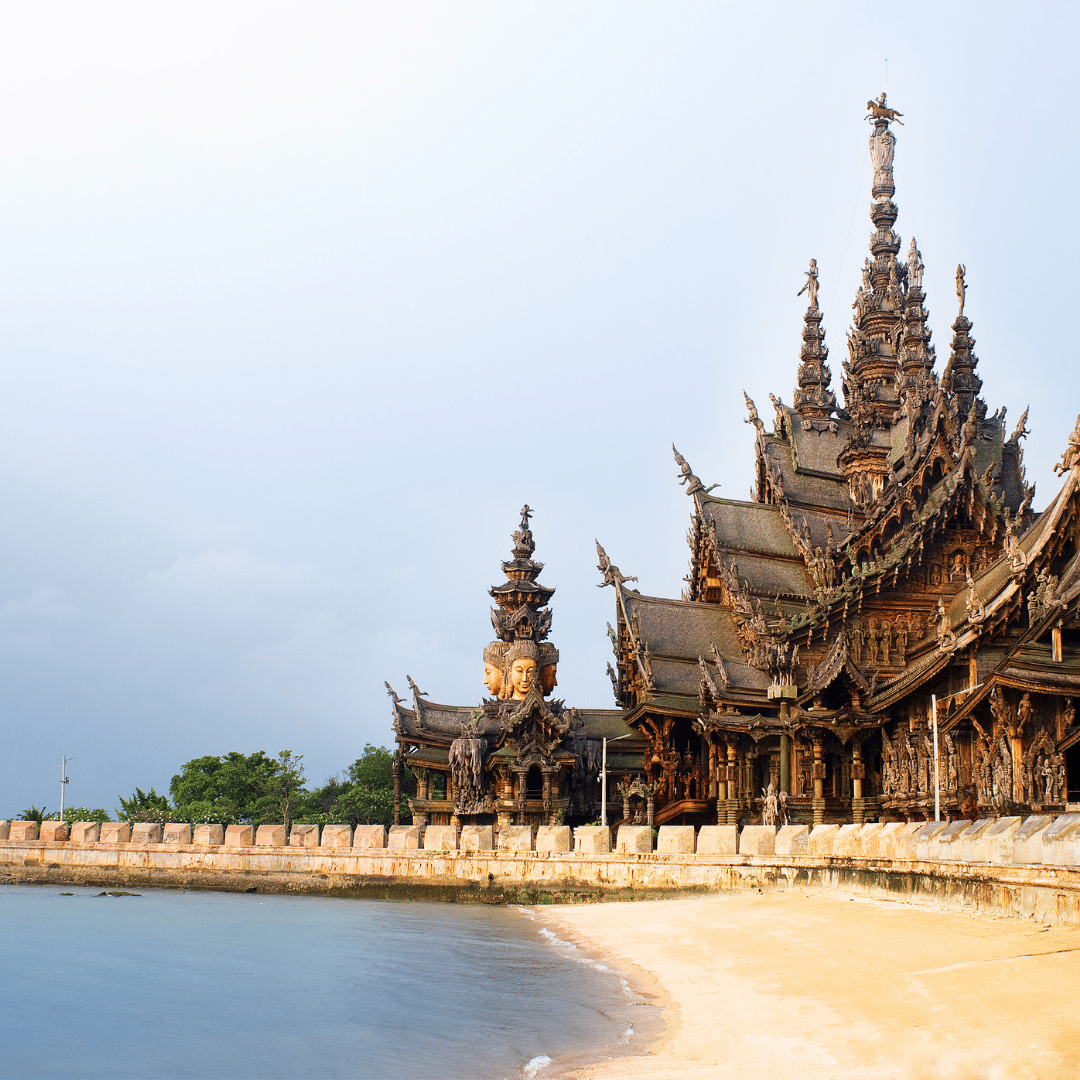 The Sanctuary of Truth is perhaps the most noticeable designs and places to visit in Bangkok and Pattaya. It presents an ethereal display of the sea. This spot has a fanciful setting which presents craftsmanship foundation, social landmark, and a strict hallowed place.
It's capriciously cut from teak wood with the mind blowing etchings of elephants, scenes, creatures, and divine beings from old stories, which are very amazing. Hence, its design and climate draw in numerous guests. Visits in different dialects are held like clockwork all through the design. Furthermore, here you can appreciate Thai moving exhibitions held at 11.30am and 3.30pm.
Location: 206/2 Moo 5, Soi Naklua 12, Pattaya-Naklua Rd | Naklua, Pattaya 20150, Thailand
Timing: 8:00 – 18:00

15. Alcazar Cabaret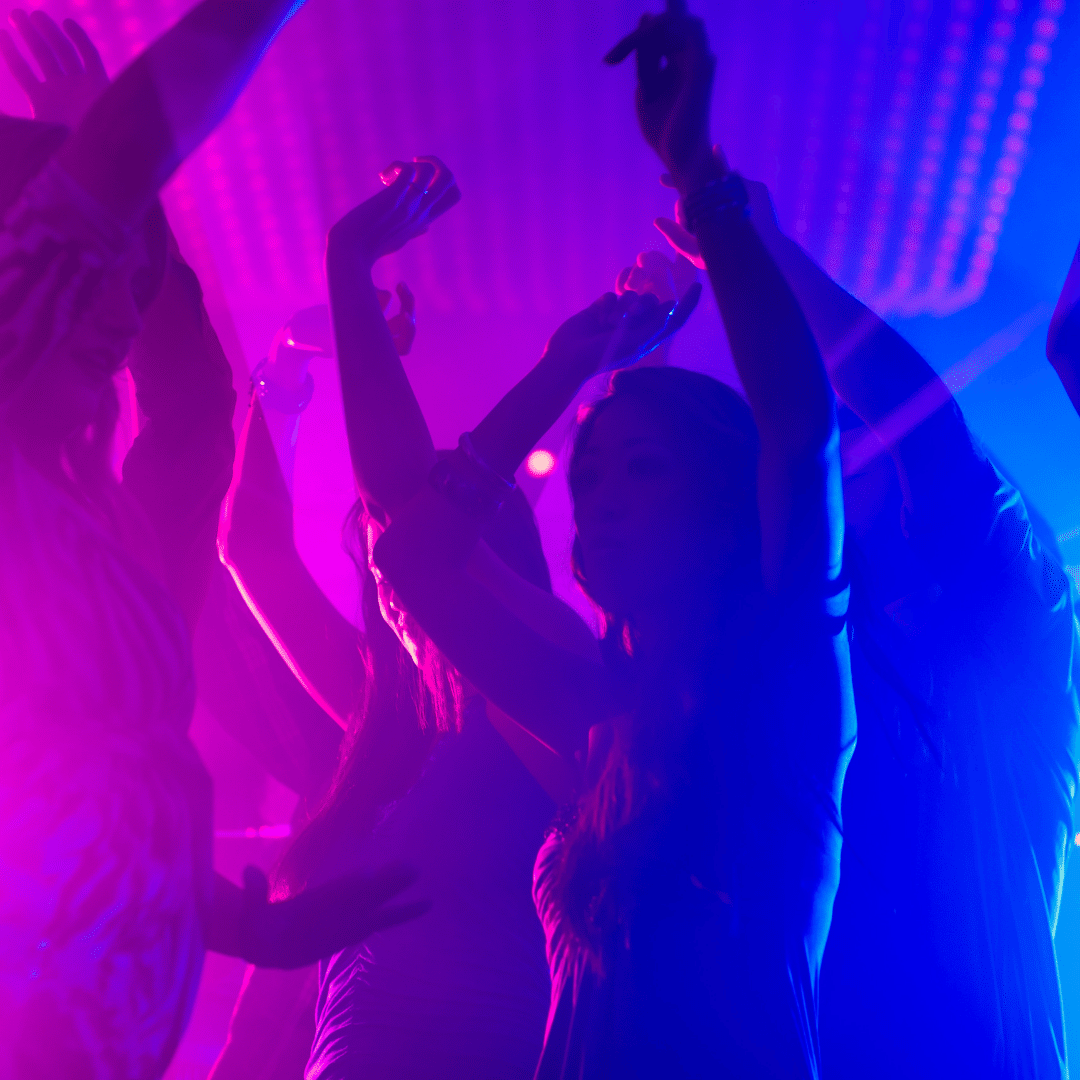 Pattaya is normally mainstream for its supper club shows. Dazzling foundations, stylish outfits with their tones, flowerets, and brilliant dreams will draw in everybody. Further, pretty craftsmen and artists intrigue with their style and structures. Nonetheless, the component of this show is that there isn't so much as a solitary woman in the show. Your companions back home won't ever believe you when you unveil to them that the young ladies in the photos are really men.
For the whole hour, you will be locked in by wonderful shows like farces, humor plays, moves followed by music and light impacts. The show will get your attention and require you to many years and countries back.
Location: 78/14, 2nd Pattaya Road, Pattaya, Thailand
Timing: 8:30 – 22:00